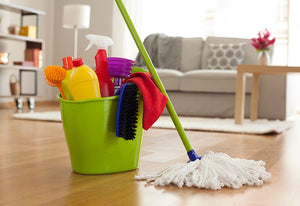 This package is your get away option without having to leave your home!
Covid has put a damper on travel options and we are all craving that down south experience so Grime Stoppers is going to bring down south to you with some additional features on top of your home cleaning.
These features will include:

Mini Toiletries including shampoo, conditioner, hand soap, and lotion 🧼
Fancy folded towels 🦢
Candies or chocolates set on your pillow 🍬
Table setting for a tropical theme (using your silverware and dishes) 🏝
A bottle of Malibu Rum 🤤
3 hours of cleaning
The home cleaning will vary in price based on the size of the home and services required within the clean.